Capitalizing on Online Purchasing
As floral shops continue to tap into the exponential growth in e-commerce, it's vital to create a strong customer service experience that captures the specific products available, a recent study found.
Using real photos, instead of stock images, and including key descriptive and educational information about the product is a must for floral shops and retailers seeking to grow their online sales. These findings, and other insights are detailed in a study by the Floral Marketing Fund (FMF), in partnership with the Vineland Research and Innovation Centre and the University of Guelph, on garden hobbyists' perceived value of nursery plants in the US and Canada. While the study focuses primarily on nursery plants, there are still many impactful, broad consumer insights that can aid all floral shops and retailers in understanding purchasing behaviors and capitalize on them.
"While future research is needed to explore the most effective solutions, there are opportunities to transform consumer-facing floral product websites into a unique business tool that caters to the shopping habits of local customers," said Dr. Amy Bowen of the Vineland Research and Innovation Centre, one of the study's researchers. These areas include taking real photos, writing useful descriptions, focusing on customer service, and bundling products.
The study included a small survey of customers' online shopping preferences and found 88 percent of consumers place the most importance on plant photos, descriptions, quality, and care instructions. "Without giving online shoppers a clear description and photo of the product, consumers don't know what they are buying," explained Bowen.
Photos Matter
While stock images are easy to upload and use, consumers recognize them as generic. Instead, the study found that consumers overwhelmingly want to see exactly what they are buying.
"Consumers don't want to see the stock photo," Bowen said. "They want to see what the plant looks like in the greenhouse, and exactly what they are purchasing." For retailers, this means direct images of each floral arrangement will be more impactful than stock samples.
"Don't worry about taking a photo of everything available," Bowen said. By being strategic, and spending a little extra time photographing best sellers, or the latest seasonal favorites, an online store can be used to highlight products and drive sales.
"There is so much diversity that it can feel overwhelming," she noted, "But start with on category, and feature it. The point is to find ways to create interest and point customers to your specific products."
Provide Written Details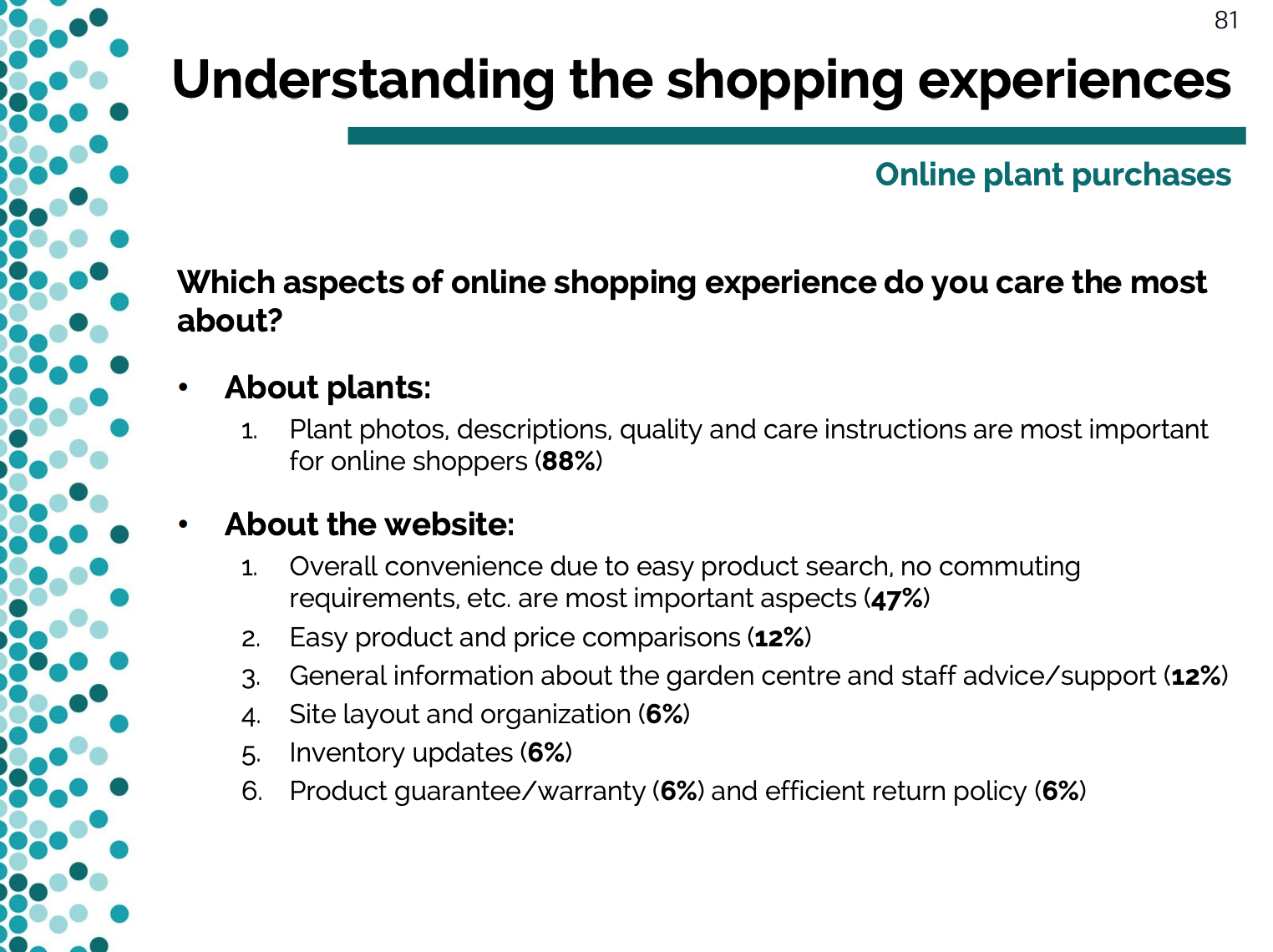 Inspecting plants is an important step in the in-store buying habits of a quarter of consumers, the survey found. "Maybe they are looking at the number of buds, the health of the leaves, or just examining the tag to know how much sun and water it needs. But these same details are paramount to helping online shoppers select the right plant," Bowen said.
By focusing on the written descriptions of online listings, business owners can provide browsers with the details that will help them choose the right product for their needs. Size, shape, container, and care instructions are all important areas to consider.
Unrivaled Customer Service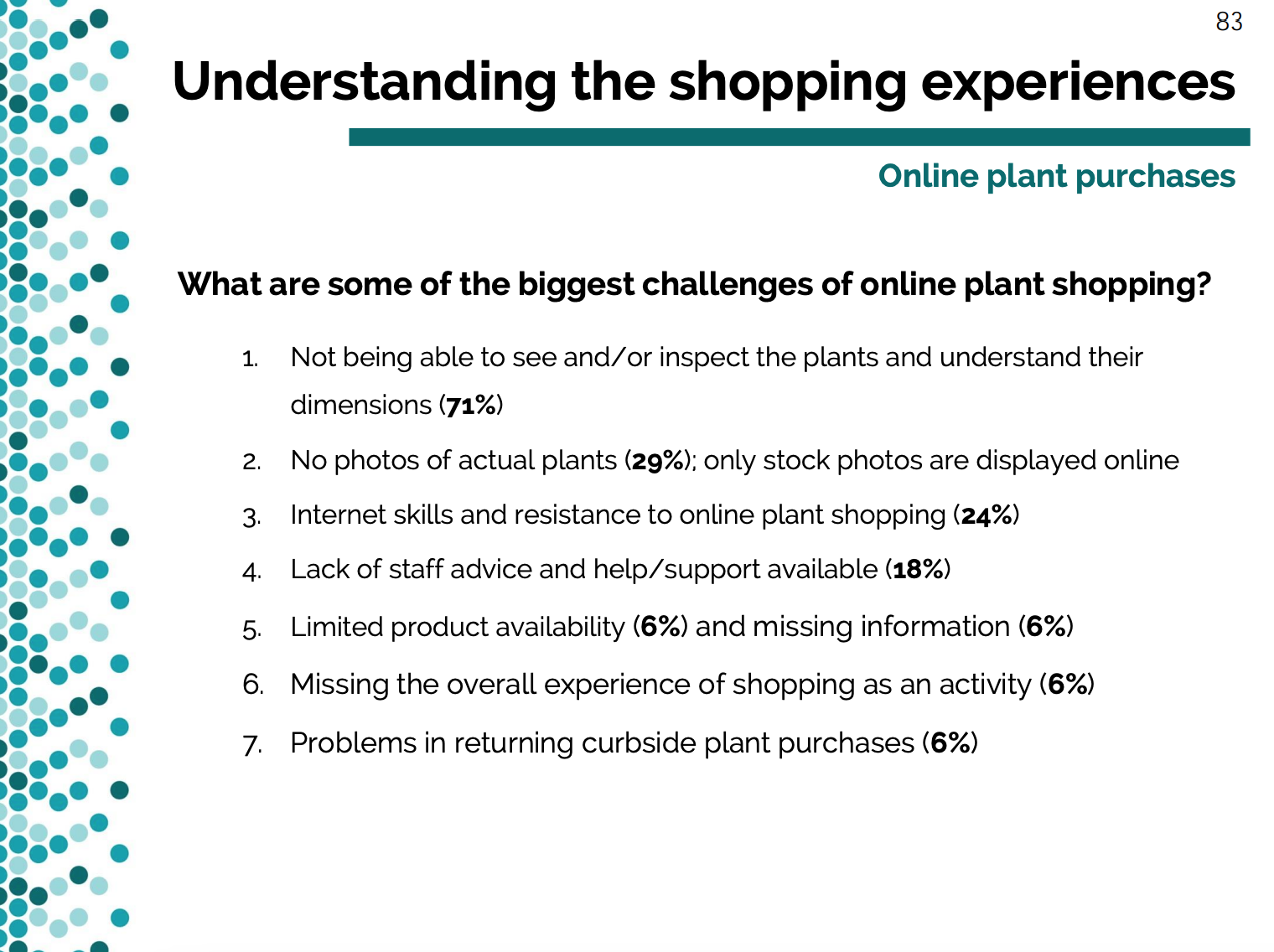 Retail shops and garden centers set themselves apart from big box stores and other plant sellers by being unmatched in customer service. Overwhelmingly shoppers cite staff support and advice as drawing them into their local shop.
"Finding ways to recreate the help online could elevate the online shopping experience in a similar way," Bowen said. Besides having options for communicating directly with the store, customer service could also include prominently displaying guarantees and warranty options for buyers.
"Knowing that returns and exchanges are easy is a valued part of the loyalty many customers have towards shopping at garden centers, the study showed, so replicating that online is crucial," Bowen said. Retailers can capitalize on this by featuring delivery times, satisfaction guarantees, and refund policies on their sites.
Bundling Products
"During the height of the COVID-19 pandemic, when social distancing was at its most disruptive, some garden centers experimented with bundling products into gardening kits," Bowen said. Customers could order a spring planter kit, for instance, and receive everything needed, including soil, pots, flowers, and a map for optimal placement.
While the study didn't touch on the specifics of offering these kits, Bowen said the research did show that there is a strong potential for increasing sales by bundling products and helping shoppers buy everything they will need for an occasion or project. Retailers can bundle products for holidays and special occasions such as a flower arrangement with chocolates and a card.
Implementing this strategy online offers a way to not only meet the needs of customers looking to celebrate specific moments or milestones, but it also is a prime example of how ecommerce could easily direct shoppers on making informed purchases.
"For some, it is very daunting and overwhelming to go into a shop in-person and find everything you need," Bowen said. "But online, with a bundle, you can have it all easily, and it gets shipped directly to you. It's simple."
Each holiday and special occasion could have a gift package bundle encouraging the consumer to not only spend more in one purchase, but also increase ease by allowing the store to act as a one-stop-shop.
The full study and more information on plant purchasing is available for download here.
Interested in becoming a sponsor or supporter? Consider making a contribution to FMF to help us continue to provide insights like this to the industry. 
By Sarah Sampson