Description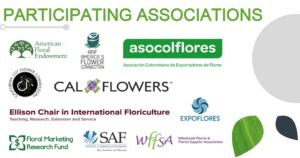 The Floral Marketing Research Fund (FMRF) is pleased to announce the completion and release of "The Use of B2B E-commerce Technologies in the Floral Industry" study. The study was commissioned and funded by the FMRF and eight other notable floral associations including the Wholesale Florist & Florist Supplier Association, Society of American Florists, California Cut Flower Commission, Expoflores, AFIF, Asocolflores, Cal Flowers, and Ellison Chair in International Floriculture. The goal of this study was to take a closer look at the current B2B e-commerce technologies currently being utilized within the floral industry. The study also measures industry trends and identifies gaps in the available information that could be further researched.
As COVID-19 continues to influence purchasing habits, data collected during this study is particularly relevant as it points directly to the need within the industry to consider how assets such as websites, online marketplaces, and social media can be utilized to sustain and grow business. The study reveals that consumers are shifting to digital purchasing with that trend continuing even once the pandemic slows down.
A total of 306 firms responded to the survey, with a large portion (44%) being from the retail sector, including brick and mortar florists and online florists. Although a large portion of the study respondents was from the retail sector, the study did extend beyond retail to include, wholesale, supermarket, wire services, domestic growers, international growers, distributors, manufacturers, and allied trade distributors.
Manufacturing and distributors were the least represented which was expected since it is known that the make-up of the industry includes far fewer manufacturers and distributors than retail outlets. Overall, information collected from the study will prove to be beneficial to all sectors as the buying practices of both businesses and consumers continue to shift.
Key findings from the study reveal that approximately 50% of respondents believe e-commerce will account for 21-80% of their revenue in 5 years. The study also revealed that a relatively low percentage of firms are currently utilizing e-commerce services and that only two of the available services or technologies were used by more than half of the respondents; email marketing and social media marketing.
In the face of COVID, the study reveals the importance of having an online presence in that it provides a safe way to interact with online-savvy customers. It also points to economists' prediction that customer demands will rebound slowly, and customer habits set today are likely to outlast the immediate crisis that the industry is experiencing during COVID.
See the Results: